How to choose this product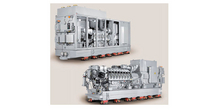 A ship's propulsion system comprises the assemblage of elements necessary to move the vessel, including engines, bow and stern thrusters, azimuth pods and even kites. Those found on NauticExpo are designed for commercial ships rather than recreational craft, though some are suitable for use aboard super- and mega-yachts.
Applications
All ships require propulsion, be it for long ocean voyages or docking and other port maneuvers. The engine also can produce electricity by linking it to an alternator.
Technologies
The system consists of all the elements necessary to propel the vessel: the engine, gearbox, propeller shaft, shaft bearings and propeller. The numerous types of power plants include internal combustion engines, diesel-electric systems and gas turbine-diesel combinations, among others.

Each system has advantages and disadvantages depending on vessel type and activity, e.g., ocean crossings, coasting and transshipping. The tow kite is a system still under development. It represents an entirely ecological and economic alternative to traditional propulsion or can be used keep the vessel moving in case of breakdown.
How to choose
Choice will depend on vessel specifications and intended use.