How to choose this product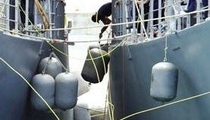 A ships fender protects the vessel's sides from impact damage when lying alongside.
Applications
These devices protect large, heavy ships when they lie alongside one another. They are also used at port terminals, general cargo and Ro-Ro docks, container ship terminals and similar facilities.
Technologies
This fender is a large, air-filled cylinder which flexes when compressed by the side of a ship. It consists of several layers of rubber, sometimes covered by a net. Size varies greatly, from one to nine meters, and up to 2.5 meters in diameter. The fender is equipped with a pressure relief valve. Models that are too large and cumbersome for manual handling are held on davits for simple, rapid deployment.
How to choose
Choice will depend primarily on the size and displacement of the vessel. Fenders that compress slowly should be used with ships of great size. The largest models are stowed on suitable davits.
Advantages
- Significant energy absorption
- Float