Ship engines
40 companies | 386 products
How to choose this product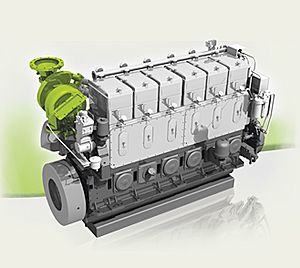 A ships engine is the principal element of the vessel's propulsion system. It uses mechanical energy to drive the ship forward. NauticExpo offers an ample selection, including diesel, low-speed, medium-speed, electric and gas turbine engines.
Applications
In addition to power plants for propulsion, there are also auxiliary engines for emergency use, generator sets and generators.
Technologies
Each of the different types of marine engine operates in a particular way. There are steam turbines using boilers, two- and four-stroke diesel engines running on petroleum-derived fuels, gas turbines and nuclear-powered engines.
How to choose
Selection will depend on the size of the ship and the power required to propel it at the desired speed. Diesel engines, the most common on merchant ships, are the most economical due to their low fuel consumption and the nature of the fuel. However, they produce more vibrations and more pollution than gas turbines.