How to choose this product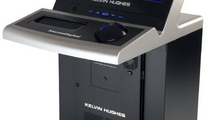 A ship ECDIS (Electronic Chart Display and Information System) is a navigational aid combining a display and software for both vector and raster (scanned) digital charts, as well as numerous complementary data. NauticExpo offers units for professional use, such as on cargo ships.
Applications
These systems are essential aboard modern commercial vessels, especially ships sailing the high seas or in dangerous areas. They are mandatory on certain ships, as defined by international conventions and classification organizations.
Technologies
The ECDIS can display digital navigational data like C-Map or CM93 cartography, and are immensely helpful in decision-making. Certain versions include weather modules and display radar imagery, water depth, speed, ice conditions and other data. An ECDIS can be connected to alarm systems and management software for cargo balance, engine, fuel and stores management, or other control functions.

It takes the form of a console whose central element is a screen, often very large (24 inches minimum). Some models have two or three screens for simultaneous display of different data. The system is controlled by a combination of push-buttons, a keyboard, joystick, switches and a mouse, usually in trackball form.