How to choose this product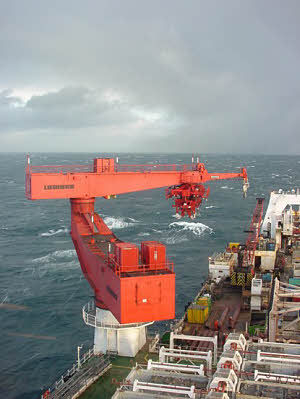 A ships crane is designed to transport containers and other heavy loads. Deck installation allows it to be used to organize cargo.
Applications
Such cranes can be used aboard any ship or barge for the precise stowage of cargo on deck or in the holds. They allow ships to load and unload cargo independently in poorly-equipped ports.
Technologies
Most of these cranes are hydraulic. Configuration and boom length vary. They can be mounted on a swivel base or on tracks. Heavy-duty models can lift loads weighing several thousand tons. Folding versions offer compact stowage when the ship is underway. Cranes can be operated from a fixed control point or via a wired or wireless remote control.
How to choose
Choice will depend on specifications such as available installation space, required reach, maximum load capacity and whether the cargo to be handled will be containers or other materials.