How to choose this product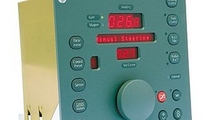 An autopilot is an electronic device permitting the vessel to automatically maintain a set heading without need to tend the helm. Once a course is entered, the autopilot will maintain it by automatically adjusting the rudder.
Applications
Connecting the device to bridge instruments such as electronic charts, radar, gyrocompass or GPS, may offer multiple self-steering options, such as "track" or "heading" modes.
Technologies
The autopilot is usually connected to two devices: the gyrocompass, which continuously registers the heading, and the servomotor, which actually performs the rudder alterations. Malfunction of the gyrocompass or the servomotor may cause malfunction of the autopilot.
How to choose
Selection of an autopilot depends on its compatibility with other bridge devices.
Advantages
- Reduces work load for the watch officer
- Reliability
Disadvantages
- Less effective in bad weather
- Slow reaction time for maneuvers