How to choose this product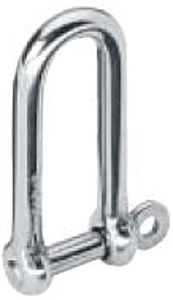 A shackle is metal fitting composed of a pin and a U-shaped body. If the pin is threaded, it can be called a shackle screw pin. The pin also can consist of a bolt and nut or held in place by a cotter pin.
Applications
Shackle varieties include D-type, twist, bow and others. Sizes range from a few to several tens of centimeters. Large models are used on ship mooring lines.
Technologies
These fittings are used to temporarily connect a chain to a line, a halyard to a sail or the last link of a chain to an anchor. Most are made of stainless steel. Some pins are permanently attached to the shackle body to prevent loss. They slide to close or open, but cannot be separated from the shackle.