How to choose this product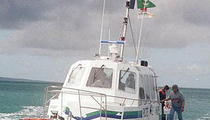 A service boat is a motor vessel designed to perform practical work in a specific maritime domain.
Applications
These boats are used in logistical operations such as supply and personnel transport for offshore platforms. Some are pilot boats, carrying port pilots to and from vessels requiring local expertise for entering and leaving harbor. Others are used for maintenance work on buoys and lights, oil platforms and offshore wind farms.
Technologies
Such work craft must be particularly sturdy since they are forced to operate in all weather and sea conditions. They are often built of steel, though aluminum and composite versions also exist. Rigid inflatables are sometimes used as pilot boats, which must be fast and flexible enough to handle changing conditions.
How to choose
Choice will depend on the specific needs of the vessel's intended function. These will determine size, construction materials, configuration and equipment, engine selection, draft and other characteristics. The advice of a naval architect or shipyard can prove useful.