How to choose this product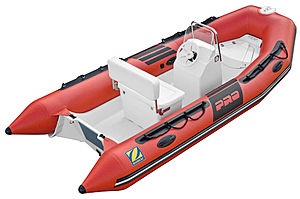 A rigid inflatable boat consists of inflatable pontoons surrounding a rigid fiberglass or aluminum hull. Models run the gamut from small tenders to deluxe craft of significant length.
Applications
Popular for nautical recreation, its seagoing qualities make this an excellent work vessel. These craft are used for rescue, as pilot boats and in many other professional applications.
Technologies
The inflatable pontoons are usually glued to the rigid hull. On some models, the pontoon slides into a slot along the length of the hull, making it easier to change the craft's "skin." They usually use outboard motors, but larger versions can be equipped with an inboard. The rigid hull allows for a variety of configurations and equipment including steering consoles and even cabins.
How to choose
Each model is authorized for a maximum number of occupants. Intended use will also influence choice of model. Some brands are aimed primarily at professionals, while others offer a variety of configurations for fishing, towing sports or other activities.
Advantages
- Large carrying capacity
- Seaworthy
- Shallow draft
- Light; low fuel consumption
- Trailerable
Disadvantages
- UV and puncture damage to pontoons
- Expensive
- Only large models have cabins