How to choose this product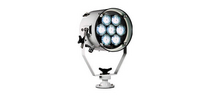 A searchlight is usually mounted high on the vessel such that it can be pointed in different directions. NauticExpo offers searchlights for boats and for ships, including remotely controlled and portable models.
Applications
Searchlights are extremely useful for search operations and for signaling.
Technologies
Though there are many different searchlight types, all operate in the same basic way. The device is mounted on a swivel permitting orientation in any direction. Ships usually carry a searchlight on each bridge wing. They can be manually or remotely controlled, depending on wing access.
How to choose
Choice of searchlight will depend on its power, its location and the possibility of manual or remote operation.