The Online Boating and Maritime Exhibition

rigid kayak
VIPER FIBER GLASS
The Aqua Xtreme composite "Viper" sea kayak is a beautifully designed kayak. It is solid, dependable and highly stable yet a very efficient touring kayak.The lower, smoother ...
See the other products
Aqua Xtreme

The Kappa also breads from the Kwazulu Natal surf, and is ideal for the little ones to learn, safely, and grow into their lives. Also indestructible and ready to be passed on for generations. FEATURES:Bungee Cargo AreaCarrying HandlesDrain Plug
See the other products
Legend Kayaks

... of sea kayak design yet again. The new Ocean gives you wings. This unique feature creates a fast and stable hull, with excellent edging. A low profile deck sheds water well and offers very low windage, ...
See the other products
North Shore Sea Kayaks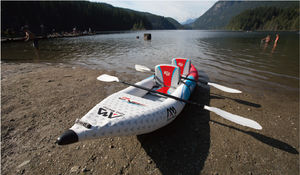 sit-on-top kayak
BETTA VT K2
The Betta VT kayak is an outstanding sea touring kayak that incorporates a hard v-cone rocker design and drop-stitch PVC deckto improve tracking in open water conditions. It's self bailing ...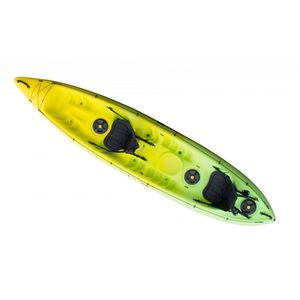 The ideal kayak for those wanting the versatility of a double kayak that can be easily paddled solo too. 3 molded seat positions and foot wells designed to make sure your comfortable in all 3 positions. ...
See the other products
Viking Kayaks

Max Load: Up to 240 kg Weight: From 17 to 25 kg Length: 5 m Width: 77 cm Cockpit measures: 93x40 cm
See the other products
ROMAN MANGAS S.A.

Available sizes: Athletes kg range: Universal About 165 kg Boat length: 5.25 m Boat weight: About 25 kg Beam: 53 cm Intended for: Touring / Expedition Available constructions: Racing , Racing Plus , Extreme
See the other products
Plastex Composite

... tree out of salt water proof and anodized aluminum tubes, sword beams with two side swords out of ash and 8-ply birch plywood, sea-water-resistant, pre-and main sheet, shrouds, halyards, packing bag weight: approx. 9 ...
See the other products
Klepper



... Sardinia, guarantees very good performances also in the presence of a rough sea and of the wind. The boat characteristics make it versatile and usable as your one and only kayak.
See the other products
Qajaq


Like the name implies, the Titan stands out for its greatness in performance. Roomy, stable, and fast, the Titan is the ideal kayak for long expeditions. Even loaded, the Titan accelerates with ease due to smooth entry ...
See the other products
Atlantis Kayaks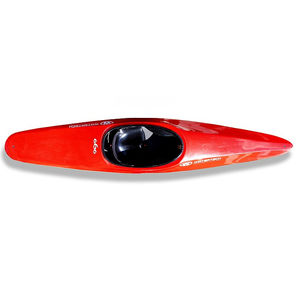 By far the most comfortable of all IC's, this kayak is fast & fun. He can be a true revelation to those who never surfed on a long boat before. It is a World Winner with our W-Team paddler Ainhoa Tolosa!!! Pleasure or ...
See the other products
Watertech Kayaks

... providing the paddler with a kayak that can do it all from easy shore-line paddling, to carving graceful turns to the ability to paddle long distances with comfort and grace. The Mantra was designed to be a compact Performance ...
See the other products
Seaward Kayaks

... with Net Bag Drink bottle Holder with Bungee Clip The Play is the most versatile kayak available today! Designed for just about everyone! Perfect as a first kayak that you child can ACTUALLY PADDLE ...
See the other products
Cobra Kayaks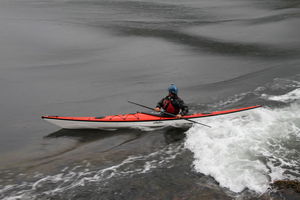 ... new kayak called the Raven, chosen for the playful nature of this bird. This boat was a departure from typical sea kayak design at the time as Tom Derrer, from his whitewater roots, ...
See the other products
Eddyline Kayaks

... better for it. The detailing on the Twist is equivalent to our higher-priced kayaks. High-quality, bayonet-style valves are used in three separate main chambers. The kayak can be paddled to shore in ...
See the other products
Innova


A perfect mix of good design, good performance and good stability for paddlers looking for a kayak to cruise with. Flat to shallow arched hull provides very good initial stability on placid waters, while being predictable ...
See the other products
Gatz Kanus

Very stable junior K1. For children up to 14 years. Length 414cm Depth 15cm Beam 48cm
See the other products
Knysna Racing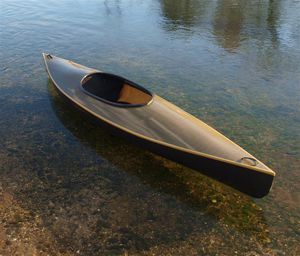 Featherweight, nimble, effortlessly fast - The Wing Solo Kayak is the most beautiful, lightest kayak available. Jet black colored pure carbon hull is contrasted by the deck's golden hue. 20 lbs, 11.5' ...
See the other products
Wing Systems

folding kayak
HARPOON I 450 Basic
Includes : – Frame (SKU: S) – Hull CSM –hypalon or TPU with airsponsons (SKU: S) – Seat (SKU: F2SS) – Carry handles (SKU: S) – Repair kit (SKU: ARKU) – Packing bag oneseater 1 part (SKU: PB1-1) – Rudder bracket (SKU: F021) – ...
See the other products
Wayland Folding Kayaks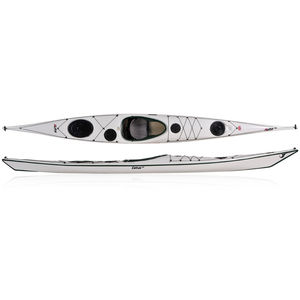 rigid kayak
Cetus 1710 HV
The boat for getting out there and getting away from it all! The 'Cetus' is a fast cruiser designed as a load carrier. It has become the natural choice for paddlers looking for a stable expedition platform or a fast, easy to paddle boat ...
See the other products
P&H Sea Kayaks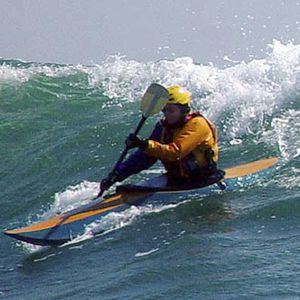 See the other products
ARWEN MARINE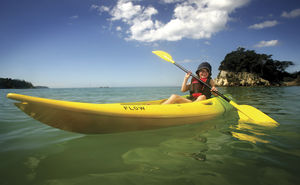 ... your snacks, sunscreen, keys, etc. With the addition of a Railblaza adjustable rod holder this kayak can asily also be used as a entry level fishing kayak.
See the other products
Mission Kayaking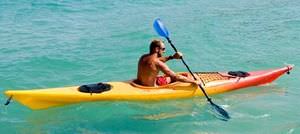 Dimensions: 430x65x30 cm Cockpit: 86x48 Weight: 19 kg Polyethylene For those who love staying on the water. Ideal for long trips. Equipped with 2 peaks that can hold up to a camping tent and a paddle. Available in many standard and special colours.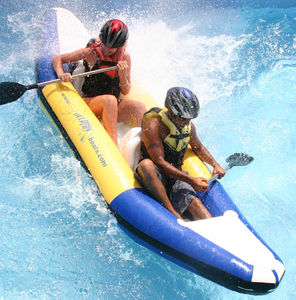 inflatable kayak
3,40 mt. K
The two seater D-Tex Kayak is light and easy to inflate and is the ideal family kayak used on rivers and at sea. It has an inflatable bottom with pressure relief valves and stability ...