How to choose this product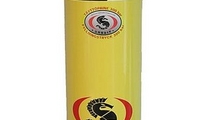 A dive, or scuba tank is a cylinder holding air or mixed gas for use by a scuba diver.
Technologies
Dive tanks have one or two threaded or yoke valves and O-rings for attaching a regulator. Some include a carrying handle clamped around the tank neck. Most are of steel or aluminum, though some newer models are made of composite materials to reduce weight. Some are suitable for nitrox or other mixed gas use.

Tank exteriors are commonly primed and painted for corrosion protection. Interior surfaces are also treated. A rubber boot allows them to be stored upright and plastic mesh protects the body from scratches. Capacity is indicated in liters or cubic feet. Tanks must undergo regular pressure testing and inspection for internal and external defects.
How to choose
Choice of tank size will depend on typical dive duration and diver build. Children and divers with small frames should use a smaller, lighter tank.