How to choose this product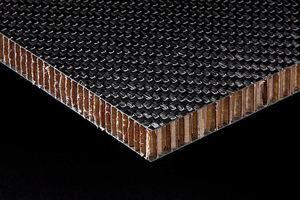 A sandwich panel is a composite element consisting of a core between two surface pieces.
Applications
These panels are used to construct partitions, furniture, structural and interior elements. Though extremely light, they resist bending and shear forces. The core also may be fire-retardant or provide thermal or acoustic insulation. These characteristics make such panels suitable for a variety of marine construction applications including use by amateurs.
Technologies
A structural element fastened at both ends and subject to perpendicular stress will sag to a degree proportional to the cube of the distance between the two support points. Stiffening can be achieved by using a more rigid material or by increasing the element's inertia, or quadratic moment, which is proportional to the cube of its thickness. The second, simpler solution is readily achieved by using a sandwich panel.

The core can be made from a variety of different materials including Core-cell®, honeycomb, PVC foam, rubber and balsa. Aluminum, wood, steel, laminated composites and other materials are used for the outer layers.
How to choose
Panel characteristics will vary with the constituent materials of the core and outer layers. Choice will depend on precise use and environment. The stiffness-to-weight ratio is an important criterion.
Advantages
- Excellent stiffness-to-weight ratio
- Rapid installation
Disadvantages
- Expensive