How to choose this product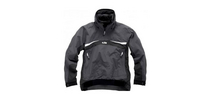 Sailing spray-tops are torso-protection sailing garments. They feature no openings and no zips.
Applications
Sailing spray-tops are water- and wind-proof.

Models for sailing dinghies are lightweight and supple to facilitate movements. High-seas models are heavier and warmer.
Technologies
Textile fibers are numerous. Gore-Tex®, waterproof and breathable, nylon, polyester, neoprene, polyamide, etc.

Some models feature reinforcements at key points (elbows, armpits, etc.).

Some feature extra waterproofing devices such as neoprene or latex neck-, wrist- or waist-bands.

Sailing spray-tops sometimes feature front pockets and reflective strips for nighttime visibility.
How to choose
Choose a model adapted to the type of navigation you enjoy.

Specify the user's age, size and sex.