How to choose this product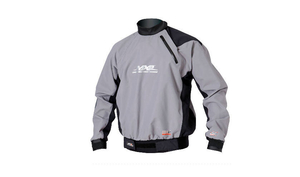 Sailing dinghy spray-tops are protective garments without a front opening. This makes them particularly effective against wind and spray.
Applications
Dinghy sailors need water- and windproof clothing whose material and cut do not hamper movement. These tops are particularly well-suited to this sport, but also can be used for canoeing and kayaking.
Technologies
Modern fabrics are sold under a variety of trade names. The essential point is that these tops must be made of a material that is waterproof and, if possible, breathable, such as Gore-Tex®. Most have a one- or two-compartment front pocket, sometimes lined with fleece.

Latex or neoprene seals at the wrists, neck and waist can make the garment completely watertight. This relatively loose-fitting, supple clothing provides great freedom of movement, and makes it easy to wear over a layer of Thermolactyl® or similar material.
How to choose
Choice will depend on the wearer's height, age and sex. Warmer models are suitable for winter conditions or sailing in cold regions.