How to choose this product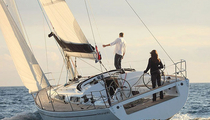 The twin-wheel monohull sailboat is ever more common. This arrangement provides advantages when its beam permits and heel is steep.
Applications
Twin wheels are usually found on racing sailboats, which heel steeply more often and which require more time at the helm than cruising. However, more and more production boats are so equipped, beam permitting, because it allows steering from windward at all times.
Advantages
- Better view forward
Disadvantages
- Occupies more cockpit space