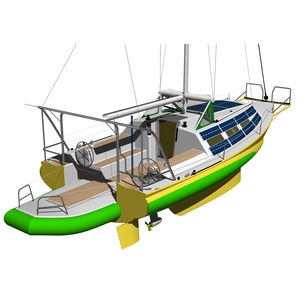 8 photos
cruising sailboat / bilge keel HREKO 1000 HYBRID

Length : 9.98 m

HReko 1ooo is a prototype of a "multi-hybrid" boat. This sailing boat is in terms of morphology and functionality a hybrid between a trimaran and a modern performance monohull with water ballast. It can be interesting as a base for development for the perfect 40-foot hybrid cruiser which...

6 photos
4 berths sailboat / twin rudders / twin keels / cat boat TILAPIA 650

Length : 7.2 m

Recreational sailing : plug & play ! Would like to sail if it was not as complicated or after several decades of sailing on large units, you get tired of hoisting heavy mainsails? The Tilapia has been designed for you : a simple and efficient catboat in the...