How to choose this product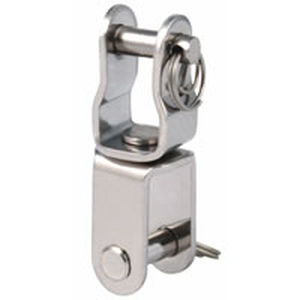 A sailboat swivel is a fitting, generally metal, for quickly and easily connecting two standing or running rigging elements, while allowing them to rotate freely.
Applications
These swivels have a vast range of applications including securing an anchor to a chain, fastening a spinnaker sheet or a halyard to a sail or attaching a block to a traveler car or a base plate. They are found on every type of sailboat, from small dinghies to the largest yachts.
Technologies
Such fittings are generally composed of two parts linked by an axis around which they rotate freely. They can take the form of eyes, shackles, snap shackles, forks or another configuration. Most are stainless steel, though plastic models can be used for light loads. Galvanized steel models are less expensive than stainless steel. Some have a hook system to transfer halyard forces to the luff rope once the sail has been hoisted. Swivels also make possible roller furling systems.
How to choose
Choice will depend on intended use, be it for spinnaker sheet, halyard, ground tackle or another application. Maximum load is another factor. Exceeding the swivel's maximum capacity could result in rupture.