How to choose this product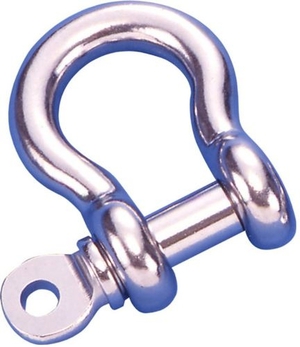 A sailboat shackle has a yoke of varying shape closed by a removable pin. It fastens together two elements subject to significant loads.
Applications
These fittings are very common on sailboats. They fasten blocks, lifelines, anchor chains and numerous other elements.
Technologies
Shackle shape will differ depending on specific use and the required freedom of movement between the two elements. There are bow-, U-shaped and twisted configurations. The bolt can be be threaded or held in place by a cotter pin or another system. Shackle pins with a hole through the flange at the outer end can be moused, or wired to the shackle for added security.

Forged models have a round cross-section, while stamped versions are flat, with a rectangular section. While the great majority is of stainless steel, sailing dinghies sometimes have plastic models.
How to choose
Shackles are designed for a determined working load, which should not be exceeded. Forged shackles are stronger than stamped models of the same size. Some are intended for very specific functions. This includes halyard shackles, anchor chain shackles and others.