How to choose this product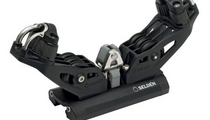 A sailboat mainsail traveler consists of a fitting an attachment for the mainsail sheet tackle and which slides along a transverse track. It is used to adjust the angle of the sail with respect to the wind, and to fine-tune it for maximum efficiency.
Applications
These devices are found on most modern sailboats, from the smallest sailing dinghy to the largest yacht. They offer additional fine-tuning options for improved performance through adjusting sail twist and leech tension. They are also useful in changing wind conditions.
Technologies
The traveler car moves along a track on ball bearings to minimize friction. Both traveler and track are usually aluminum. The tackle on each side, sometimes accompanied by cam cleats, is used to precisely position the traveler along the track. The center of the car has a fitting to hold the mainsail sheet tackle. This is sometimes a simple shackle, ring or swivel shackle.

Sailing dinghies often use just a ratchet block. Live-aboard sailboats use double or triple sheave blocks, rotating cleat towers or swivels.
How to choose
Choice will depend on boat length and mainsail area. If the track is already installed, its precise shape and dimensions will determine traveler selection.