Sailboat in-board engines
How to choose this product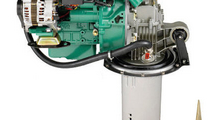 An inboard sailboat engine is installed within the boat's hull to ensure propulsion even in the absence of wind.
Applications
Such engines are ideal for vessels too large for an outboard motor. They must be able to operate even when the vessel is heeling. They are particularly useful on cruising sailboats for entering and leaving port, and to remain on schedule during windless spells.
Technologies
Along with the engine block, there are accessory devices for starting and cooling the engine, recharging the batteries and other functions. It must be installed on an appropriate mount with flexible bushings to absorb vibration. The two most common transmission systems on sailboats are propeller shaft and sail-drive, each with advantages and drawbacks.

The different models include gasoline or diesel internal combustion engines, electric motors and hybrids. Electric versions run off batteries that are powerful, but offer limited range.
How to choose
Engine power is expressed in kilowatts (kW) or in horsepower (hp), and must be suitable for the vessel's weight. With rare exception, the engine should provide at least 5 hp per ton. Other important factors include the choice between electric and internal combustion models, required installation space, noise and transmission type.
8
companies |
76
products (boat or nautical equipment)
Extend the search
Search by manufacturer
Find a distributor
Search by catalog