How to choose this product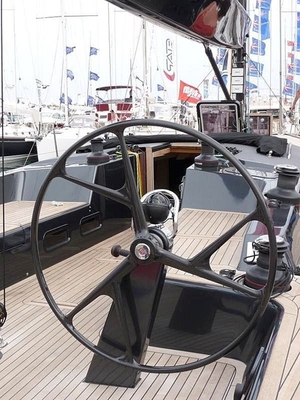 A sailboat helm wheel has an especially large diameter since steering such craft requires more effort than a powerboat, which is faster and is often equipped with hydraulic steering.
Technologies
Wheels can be stainless steel or aluminum, made of wood or of composite materials, usually carbon. Some models fold back on themselves to free cockpit space.
How to choose
Wheel steering allows the person at the helm to stand, affording a better view forward and of the sails, as well as requiring less effort than tiller steering. Wheel diameter will depend on available cockpit space and the force required to move the rudder blade. The larger the wheel, the more leverage it offers and the easier steering becomes.

Choose lightweight materials such as carbon for racing boats. Match the design to the rest of the craft, wood for a traditional sailboat, for example. Verify that the steering column or the wheel's hydraulic pump is compatible with equipment already in place.
Advantages
- Allows for stand-up steering
- Precise steering
- Less tiring than a tiller
Disadvantages
- Requires costly, complex rudder linkage
- Occupies cockpit space
- Less feel than with a tiller