How to choose this product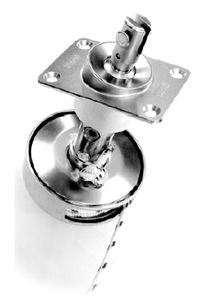 A roller furling system furls and stows a sail around a cable or stay. Once the sail has been hoisted, it can be unfurled or furled.
Applications
These devices are used for jibs and other headsails, including genoas, gennakers and occasionally spinnakers. They cannot be used to reef, or reduce sail while underway; unlike roller reefing, there is no rigid support running along the sail luff. The sail is either stowed or completely unfurled.
Technologies
The system consists of a rotating drum attached to the sail's tack, and a swivel shackle between the halyard and the head. This enables the sail to be rolled around itself, stowed in this position and unfurled when needed. A furling line runs through the drum jaws to the cockpit. The sail can be released or furled by pulling on the appropriate end of the line and unfurled by pulling on the sheet.
How to choose
Choice will depend on sail type, area and weight of sailcloth.
Advantages
- Easy setting and handing of large sails
Disadvantages
- All-or-nothing system prevents reefing