How to choose this product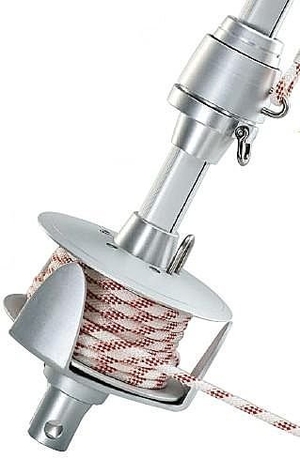 Roller furling for jib or mainsail permits easy adjustment of sail area as a function of wind strength.
Applications
This gear is very useful when sailing short-handed. Changing or reefing a headsail that is hanked or on slides requires strenuous maneuvers on the exposed foredeck. Roller furling enables crew to reduce or add sail from the cockpit. However, it is not recommended for racing since it changes the aerodynamic characteristics of the the sail's luff, reducing performance.
Technologies
Roller furling consists of an anodized aluminum shaft running along the forestay (headsails), the mast or the boom (mainsail) with a drum or worm gear at its lower end to hold the furling line.

Furling involves pulling on this line while progressively slacking the headsail sheet. In the case of the mainsail, the outhaul is slacked for mast furling or the halyard for boom furling. Large boats may have electric or hydraulic furling systems for sails too large for one crew member to handle.
How to choose
Choice of furling gear depends on the dimensions of the stays, masts and sails in question. It must be sturdy enough to handle the stresses of sailing and sail maneuvers.
Advantages
- Added safety for when reefing
- Reduces physical effort
- Sails stowed in place
Disadvantages
- Reduces vessel performance
- Added weight aloft