How to choose this product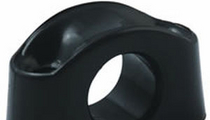 A sailboat fairlead is a fitting that guides lines through moderate direction changes. It also can be used to keep lines at a set distance from the deck or boom to minimize friction, decreasing wear and chafing.
Applications
Such fittings are useful in numerous locations around the vessel. They can guide sheets, reefing and furling lines, as well as those for traveler car adjustments.
Technologies
These fittings can consist of a simple plastic eye, sometimes lined with a polished stainless steel band. Others take the form of a small tube bent so as to create a guide. They can also take the form of a simple fitting screwed to the top of a jam cleat for easy access to the end of the line.
How to choose
Choice will depend on the fairlead's purpose and the diameter of the line. Fairleads can replace blocks only where the load is light, for example on a sailing dinghy. Sharp angles and heavier loads require use of a block.