How to choose this product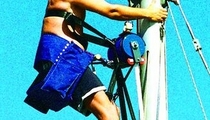 A sailboat bosun's chair is a fabric sling used to ascend the mast while securely seated in order to check, repair or replace fittings aloft.
Applications
This gear is essential for going aloft safely, especially for extended periods of work at the masthead.
Technologies
The fabric sling may have a rigid seat and/or a backrest. The chair has very sturdy straps to hold the occupant. Some have pockets for tools and gear such as tape and sprays. It has metal rings, usually triangular, to attach one or more halyards for hauling the crew member aloft. Certain models allow the occupant to ascend unassisted, using gear similar to climbing equipment.