How to choose this product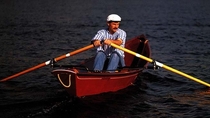 A rowboat is a small craft propelled by oars. Some are also equipped with a small sail. NauticExpo offers traditional models, inflatable fishing rowboats and other types.
Applications
Rowboats are used for short outings on lakes and rivers, or just off the seashore.
Technologies
Such craft are built of light materials. Their distinguishing characteristic is that they are equipped with a pair of oars. Their gunwales usually have oarlocks or similar fittings to hold the oars.
How to choose
Choice will depend on capacity and construction materials, which can be wood, plastic or fiberglass, among other materials.