How to choose this product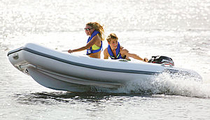 A rigid inflatable has an aluminum or composite hull. It is ideal for intensive use, is stable, handles chop well and can be beached.
Applications
These craft can carry larger motors than pure inflatables, giving them extended range. Increased size and more elaborate equipment can make them independent motorboats in their own right.
Technologies
The rigid hull is strong, but flotation pontoons should be of Hypalon instead of PVC to resist deterioration in regions where UV levels are high. Otherwise, a boat cover should be used.
How to choose
Stowage is an important issue since these craft are bulky. Choice also will depend on boat size, intended use and sailing zone.
Advantages
- Solid hull
- Seaworthy in choppy conditions
Disadvantages
- Heavier than pure inflatables
- Bulky; often requires davits