How to choose this product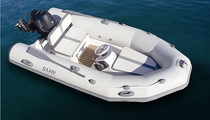 Rigid inflatable boats are motor-crafts composed of a rigid hull surrounded by two inflatable PVC or Hypalon® tubes. Originally used in professional contexts, rigid inflatable boats are nowadays extremely popular leisure crafts, often rivaling rigid-hull vessels in terms of in-board comfort.
Applications
Fast and stable, modular and polyvalent, made of ever more sturdy materials, easy to transport, rigid inflatable boats are extremely popular among recreational boaters (cruising, fishing, water-skiing, etc.) and professionals (scuba-divers, rescue teams, race organizers and regatta support teams, etc.).

Rigid inflatable boats make excellent yacht tenders.
Technologies
Rigid inflatable boats were originally designed to be propelled by one or several transom-mounted out-board motors; an increasing number are nowadays capable of being equipped with in-board motors (stern-drive or hydrojet mostly).

The hulls are generally made of laminated fiberglass, sometimes of aluminum.

Rigid inflatable boats may be equipped with a wide range of accessories: (bench) seats, piloting consoles, T-tops (sometimes even hard-tops), scuba-diving equipment, swimming ladders, etc.

Some rigid inflatable boats are true cruising boats with cabins, kitchens, living rooms, etc.
How to choose
Length will determine the number of passengers and amenities the craft may carry. A bar menu on the upper right-hand side of this page allows you to browse models with different lengths.

Motorization will depend on the craft's functions.
Advantages
- Lightness
- Stability
- Transportable
- Modular
Disadvantages
- Relatively fragile tubes