The Online Boating and Maritime Exhibition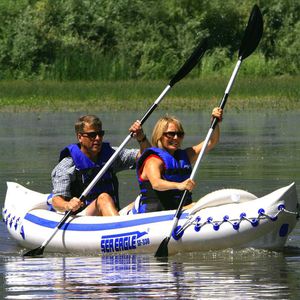 sit-on-top kayak
Sea Eagle 330
... lightest, most portable kayak is America's most popular, the versatile Sea Eagle 330. It weighs just 26 lbs. and packs down small enough to fit in the smallest car trunk. Don't let the light weight fool you, it's a rugged ...
See the other products
SeaEagle.com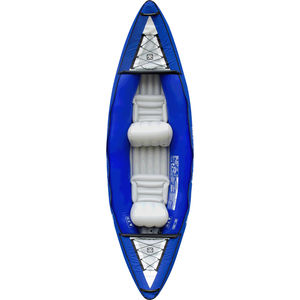 With a rugged 600d polyester cover, the mighty Teton kayak offers improved durability at an extremely attractive pricepoint. With a rugged 600d polyester cover, the mighty Teton™ kayak offers improved ...
See the other products
AquaGlide

Fit 158 PE budget kayak delivers performance that will satisfy even a more experienced paddler.This kayak is the longest in its PE range and maintains speed very well. Hard chine hull provides greater ...
See the other products
Tahe Outdoors

... performance to the world of recreational kayaks. With its 'Fusion Hull' design, the Delta 10 clips along with remarkable speed and agility while maintaining a high degree of stability without the excessive ...
See the other products
Delta Kayaks

See the other products
Plasmor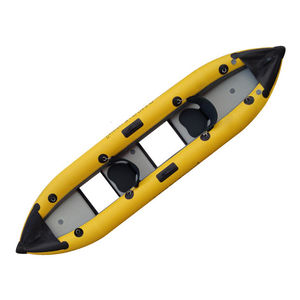 transparent kayak
Hanauma
Hanauma II - 2 passanger inflatable kayak with transparent see through windows. Innovative clear kayaks, inflatables, stand up paddle boards, accessories & more. FEATURES: Clear Blue™ Viewing Panels ...

folding kayak
Challenge I Complete
The complete and most affordable kayak made without compromising quality. The perfect kayak to store in your apartment or the trunk of your car. Just put the bag on your shoulder, hop on the bus, subway ...
See the other products
Aqua Xtreme

The Kappa also breads from the Kwazulu Natal surf, and is ideal for the little ones to learn, safely, and grow into their lives. Also indestructible and ready to be passed on for generations. FEATURES:Bungee Cargo AreaCarrying HandlesDrain Plug
See the other products
Legend Kayaks

Convert from catamaran to kayaks in less than 3 minutes! Simply slide out the alloy spars. No tools required.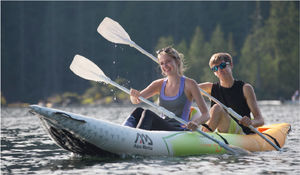 sit-on-top kayak
BETTA HM K0
... , designed for rugged sturdiness, Betta HM kayaks offer portability, easystorage and fast set up. HM is up to 13'9" (412cm), one or two person kayak designed for lakes and moderate water. Thisinflatable ...
See the other products
aquamarina

The Nemo takes our fantastically successful smaller kayak and stretches it for even more room and performance. Compact, light, and stable are the catchwords here. The Nemo is a family recreational kayak ...
See the other products
Viking Kayaks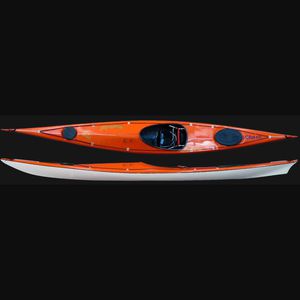 Max Load: Up to 120 kg Weight: From 14 to 23 kg Length: 5.10 m Width: 59 cm Cockpit measures: 78x42 cm
See the other products
ROMAN MANGAS S.A.

With the Klepper-Drift sails or with the downwind full sail for your Klepper-folding kayak, you save a lot of work and energy. Easy to assemble and manage even for beginners, you will have an astonishingly effective ...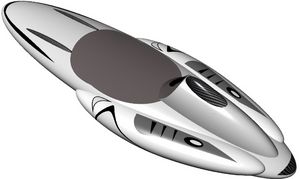 sit-on-top kayak
Canoa F1

... allround, ideal for those who prefer stability and love a comfortable kayak. It is a very versatile boat whose very large and comfortable cockpit offers the best habitability and makes the kayak easier ...

THIS MODEL IS AVAILABLE DURING PRE-SEASON ORDERING ONLY. With a slightly more gradual rocker, this 9 ft one-man has a quicker response time. You'll dance through your next rock garden!
See the other products
Hyside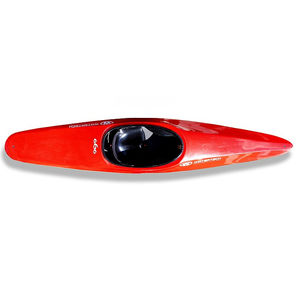 By far the most comfortable of all IC's, this kayak is fast & fun. He can be a true revelation to those who never surfed on a long boat before. It is a World Winner with our W-Team paddler Ainhoa Tolosa!!! Pleasure or ...
See the other products
Watertech Kayaks

... with Net Bag Drink bottle Holder with Bungee Clip The Play is the most versatile kayak available today! Designed for just about everyone! Perfect as a first kayak that you child can ACTUALLY PADDLE ...
See the other products
Cobra Kayaks


As the name suggests, this kayak strikes a perfect balance between two worlds. The Equinox brings together the comfort and stability of recreational kayaks and the performance of a ...
See the other products
Eddyline Kayaks

The Marvel 100 is the perfect kayak for all day paddling on protected bays, lakes, and slowing flowing rivers. Enjoy the trip in comfort with our industry leading Air-Lite seat system that provides complete and total ...
See the other products
Liquidlogic


A perfect mix of good design, good performance and good stability for paddlers looking for a kayak to cruise with. Flat to shallow arched hull provides very good initial stability on placid waters, while being predictable ...
See the other products
Gatz Kanus


... world's most advanced recreational kayak. 20 years ago Old Town canoe changed the way paddle sports thought about recreational kayaks with the Loon Series. Two years ...
See the other products
Old Town

sit-on-top kayak
Yogakayak
Rotax launches the production and distribution of the Yogakayak, already well known in Canada (price at the Annual Design Competition on Montreal Institute). The Yogakayak has many avantages. The kneeling position allows a safe position ...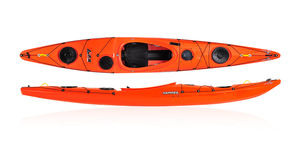 The P&H Hammer is a radical new kayak primed to take 'play the sea' and river exploration to a whole new level. Influences from the P&H Delphin and the Pyranha Fusion and aspects of white-water kayak ...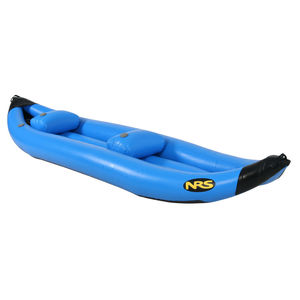 sit-on-top kayak
Maverik II
The NRS MaverIK II Inflatable Kayak features the legendary performance and durability of the MaverIK I, but with room for two paddlers. You can also paddle it solo for extra cargo space and stability. Heavy-duty ...