The SEA 7001C/RS is a remote speaker designed for use with any of the SEA 7001C series of Guard Receivers. This speaker allows the associated receiver to be monitored for watch-keeping purposes several miles ...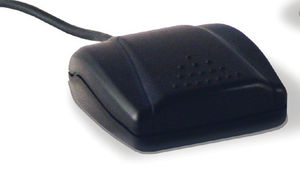 ... GPS solution. The GPS module receiver will track up to 20 satellites at a time while providing navigation updates once every second (1Hz). USB interface for plug-and-play simplicity High sensitivity GPS receiver ...

The Lowrance Point-1 is the ideal position and heading device. The Point-1 provides extremely accurate and rapid boat position and speed updates. In addition unlike other position-only antennas the Point-1 provides heading for accurate ...

boat receiver
DUAL CHANNEL
Next generation Rmax AIS technology maximizes reception range and ensures that all incoming AIS messages are received and fully decoded in real time. Designed for plug-and-play performance with chartplotters, radars, ...
See the other products
Si-tex

... allows for full use of VHF communications and AIS send/receive with a single antenna. Specially designed for use with Class B AIS transceivers, this Metadata module provides optimum AIS and VHF radio ...
See the other products
Si-tex

This USB GPS works with Maptech's Chart Navigator, Chart Navigator Pro, Offshore Navigator (Lite) software programs. Plug it to your laptop's USB port, and you'll see your position right on the laptop screen. •Powered via USB •48 channel, ...

ship receiver
DEBEG 2902 / 2918
Dual-Channel NAVTEX Receivers DEBEG 2902 and 2918 The paperless receivers are dedicated, compact and economical dual-channel NDBP receivers using FEC techniques for reception of navigational ...

boat receiver
SMARTFIND M10
... Transponder is not necessary. It transmits vessel position information as well as receiving all AIS targets within 20 miles of the boat, typical. Using the built-in GPS receiver, the SmartFind M10 ...
See the other products
McMurdo

boat receiver
SMARTFIND M15
The SMARTFIND M15 is a low cost receiver that puts AIS technology within the reach of even those on a limited budget. It receives all Class A, Class B, AIS SART, AIS MOB and AIS Base Station transmissions, ...
See the other products
McMurdo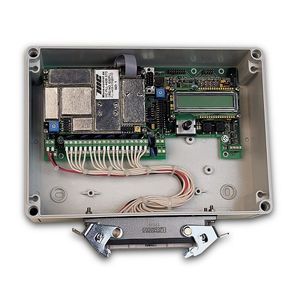 Upon request, the range of receivers provided by Cavotec Micro-control can be built into Ex d and e housings. These housings meet Ex requirements according to ATEX and IEC certification guidelines.
See the other products
Cavotec MSL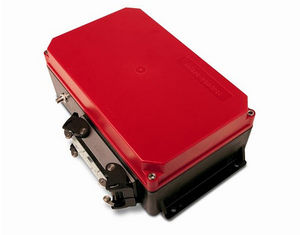 terminal receiver
FIELDBUS
Cavotec Micro-control fieldbus units can be configured for use with a variety of formats including:- Profibus DP, CanOpen, Devicenet, and others. See data sheet with complete list.
See the other products
Cavotec MSL

The world's best performing AIS receiver. Small, tough and IPx7 certified, NEON2 receiver offers superlative reception and decoding of all AIS message types. Unique design permits extensive customisation ...

... BD970 multi-satellite, multi-system kernel 2.Built-in transmitter-receiver, exchangeable base and rover 3.Original 1+X multi-module communication units in the industry 4.Extreme distance radio station ...

Rugged design ♦Microsoft Windows Mobile 6.5 ♦806 MHz high-speed CPU ♦Embedded high sensitivity GPS+GLONASS receiver ♦3.7 inch QVGA TFT, sunlight - readable color touch screen ♦5 Megapixel auto-focus camera with LED ♦Field ...

marine GPS receiver
RADARPLUS® SM161R-2 SERIES
The RadarPlus SM161R-2 dual AIS receiver provides: High-sensitivity AIS data reception Affordable low price Hears Class A & B vessel reports Sends the information to be mapped on a PC or chart-plotter Less than 1 watt ...
See the other products
Shine Micro

marine GPS receiver
SM1610-2
RADARPLUS SM1610-2: an enhanced AIS receiver with industry-leading sensitivity in a rugged weather-resistant chassis. The SM1610-2 is designed to meet all of the receiving requirements of AIS Base ...
See the other products
Shine Micro

The Watcheye EyeSea AIS is a very complete DUAL channel AIS receiver. The EyeSea receives AIS information from AIS equiped ships in your surroundings (approx 10NM). Your own ship data is not transmitted ...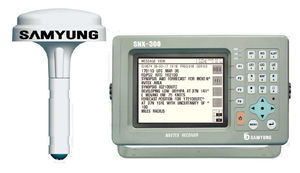 ... (490KHz/4209.5KHz) are simultaneously receiving by two receivers built-in. • Receiving messages sets-up from outer navigational equipment and channels. • Storage for over 200 advisory ...
See the other products
Navis USA LLC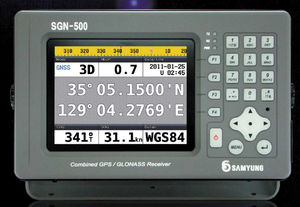 Features • Fully compliance with IMO and MSC standards • Compact size and light weighted; easy to install any locations • Full automatic positioning can runs without initial default setting required • Comfort/easy view for night navigation ...
See the other products
Navis USA LLC

man over board alarms systems receiver
... locate the missing person. 1.Person wearing NEW AU9 high power man overboard Alerting Unit (PLB) falls overboard 2.SARfinder® receives 'SOS' signal, automatically raises alarm, automatically plots GPS position of boat 3.SARfinder® ...

... pinger receiver that will quickly locate any pinger transmitting a frequency between 3 KHz and 97KHz. The receiver can be carried by a diver or deployed from a boat using the optional Boat Deployment ...

man over board alarms systems receiver
MOBi
The Nasa MOBi is a state of the art, fail-safe transponder man overboard system. It consists of a base unit and up to eight active transponders for crew or valuable equipment. In operation the base station sequentially interrogates each ...
See the other products
Nasa Marine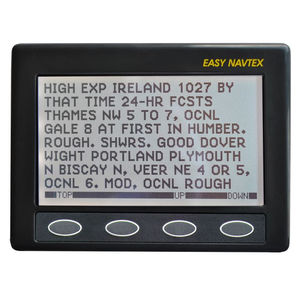 boat receiver
EASY NAVTEX
Easy to read. This new navtex receiver features big, bold characters and intuitive message formatting. Easy to program. Simple menus let you select which stations and which message categories you want to receive. Easy ...
See the other products
Nasa Marine

boat receiver
easyRX2S A174
Function The ClassB unit easyRX2S receives AIS ClassA and ClassB according to ClassB standard. The easyRX2S performs a lot of usefull features: By means of USB port connection to PC or Laptop is possible. With contained ...
See the other products
Weatherdock AG

boat receiver
easyAIS A025
Functionality: The easyAIS receives the AIS VHF radio signals, acutally most send by the commercial vessels (but also from a increasing figure of pleasure boaters). This signals are proceeded into an ...
See the other products
Weatherdock AG

underwater receiver
M101 AR Audio Recorder
M101AR product code: 33130 The M101AR is a receiving unit for underwater video cameras. The unit connects to the "audio in" port of an underwater video camera to record conversations among divers and/or with the surface. ...

For boaters requiring an AIS message receiver only, GME offers the dual channel AISR120; incorporating two ultra sensitive receivers coupled to a sophisticated processor with RMax™ technology. Ideally ...

... high performance dual channel AIS Receiver which offers superior operational performance. The em-trak AIS R100 an Integrating simple plug and play compatibility with most chart plotters and PCs, the AIS R100 receives ...