... BD970 multi-satellite, multi-system kernel 2.Built-in transmitter-receiver, exchangeable base and rover 3.Original 1+X multi-module communication units in the industry 4.Extreme distance radio station ...

Rugged design ♦Microsoft Windows Mobile 6.5 ♦806 MHz high-speed CPU ♦Embedded high sensitivity GPS+GLONASS receiver ♦3.7 inch QVGA TFT, sunlight - readable color touch screen ♦5 Megapixel auto-focus camera with LED ♦Field ...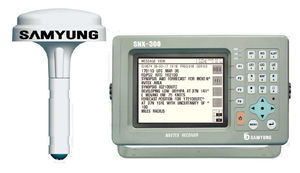 ... (490KHz/4209.5KHz) are simultaneously receiving by two receivers built-in. • Receiving messages sets-up from outer navigational equipment and channels. • Storage for over 200 advisory ...
See the other products
Navis USA LLC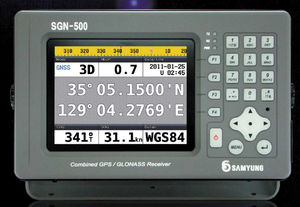 Features • Fully compliance with IMO and MSC standards • Compact size and light weighted; easy to install any locations • Full automatic positioning can runs without initial default setting required • Comfort/easy view for night navigation ...
See the other products
Navis USA LLC

... locate the missing person. 1.Person wearing NEW AU9 high power man overboard Alerting Unit (PLB) falls overboard 2.SARfinder® receives 'SOS' signal, automatically raises alarm, automatically plots GPS position of boat 3.SARfinder® ...

Terrestrial FTA reception Compact Size : 10,8x7,6x2,6cm Power supply 12 & 230 volts Consumption 12 watts IR remote controle Output 5 volts
See the other products
DMS Electronics

Selected for manual satellite antennas The MSAT10BIP is a free to air receiver MicroSAT with a PCMCIA direct card slot-in. Key Features 920 programs OSD, menu Frequency : 900-2150MHz Impedance : 75 Ohms LNB : 13-18V Consumption ...
See the other products
DMS Electronics

... pinger receiver that will quickly locate any pinger transmitting a frequency between 3 KHz and 97KHz. The receiver can be carried by a diver or deployed from a boat using the optional Boat Deployment ...

The Nasa MOBi is a state of the art, fail-safe transponder man overboard system. It consists of a base unit and up to eight active transponders for crew or valuable equipment. In operation the base station sequentially interrogates each ...
See the other products
Nasa Marine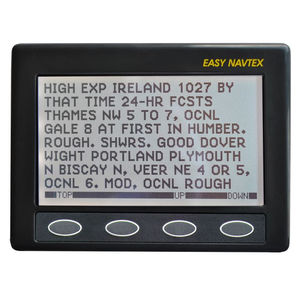 boat receiver
EASY NAVTEX
Easy to read. This new navtex receiver features big, bold characters and intuitive message formatting. Easy to program. Simple menus let you select which stations and which message categories you want to receive. Easy ...
See the other products
Nasa Marine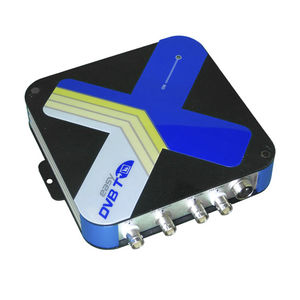 boat receiver
easyDVB-T A024
... applications and amplifies those bands which are not received as well as the nominal frequency band. As a consequence you can receive DVBT Signals (DVBT is identical to DTT; ATSC; TDT; ISDB ) for your ...

underwater receiver
M101 AR Audio Recorder
M101AR product code: 33130 The M101AR is a receiving unit for underwater video cameras. The unit connects to the "audio in" port of an underwater video camera to record conversations among divers and/or with the surface. ...

boat receiver
SKIERALERT®
Wireless Water Sports Safety... The SkierAlert® SP utilizes patented MarineLink® Technology to closely monitor a skier, wake boarder, tuber, etc, and even doubles as a man overboard detector. When the wireless safety lanyard is attached ...

... pursuits. GR-201 is the latest GPS product innovation in combining GPS receiver technology and mini-antenna in a Plug-Navigate-Location concept from SAN JOSE NAVIGATION, INC. GR-201 receives FREE broadcast ...
See the other products
San Jose Technology Inc

... sensitivity Marine GPS receiver. With excellent performance, it is easily to conquer the most difficult tasks. In addition, it also provides various functions to meet customers' needs. GM-88U employs u-blox powerful ...
See the other products
San Jose Technology Inc

ship receiver
SAILOR 6391
As a black box system, with separate touch screen user-interface, it introduces a new approach that enhances safety and efficiency, whilst being fully SOLAS compliant. It is a next generation system offering new installation and ...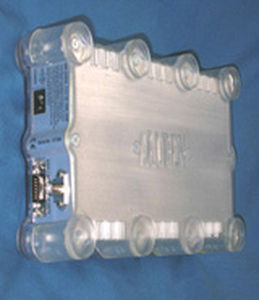 ... function in the standard AM, SSB and CW radio modes. With all its functions and facilities the AE-3300 is truly a complete marine information center. In addition, a GPS option is available which integrates the receiver ...
See the other products
Alden Marine Electronics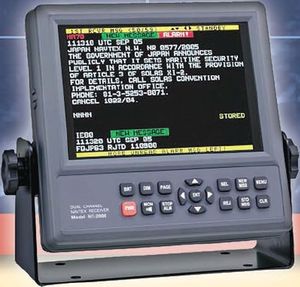 If you need a dedicated NAVTEX receiver that is fully compliant with the International Maritime Organization (IMO) Resolution MSC.148 (77) then this unit is for you. The AE-2000 is ideal for commercial ships, navy ...
See the other products
Alden Marine Electronics

ship receiver
NAVIS® CH-3101
... this information With DSC controllers. A DSC controller displays current position and time if connected to a GPS receiver and the receiver is on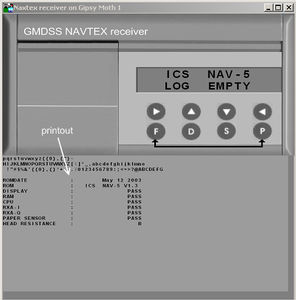 Reception and printout of Navtex messages. Use "Generator of DSC, Inmarsat and Navtex messages" on the instructor place to send these messages.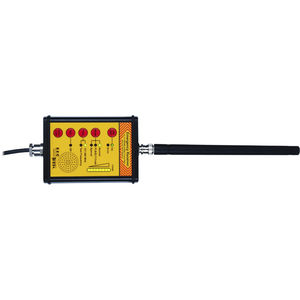 oceanographic receiver
RT-100
The RT-100 Emergency Receiver (also marketed under the name "CrewGuard") monitors the international emergency frequency 121.500 MHz. The receiver triggers an acoustic alarm whenever a signal is received ...
See the other products
RHOTHETA Elektronik GmbH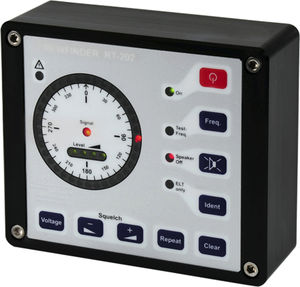 ship receiver
RT-202 CrewFinder
... . This eliminates false alarms due to radio frequency interference or other radio signals. When the selective squelch function is deactivated, any radio signal can be received regardless ...
See the other products
RHOTHETA Elektronik GmbH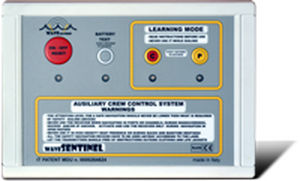 boat receiver
RC01G (grey)/ RC01W (white)
Wavesentinel is a patented receiver that, in addition to warn acustically if a member of the crew or a pet falls overboard, differs from other Man Over Board systems because it can shut down the engine of the boat if ...
See the other products
wavelectron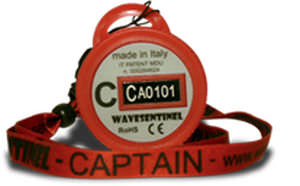 ... board system. This tag transmitter is intended for the captain or for the boat operator and it will be self-learned by the receiver on a special program that activates the relay which shuts down the engine of the ...
See the other products
wavelectron