How to choose this product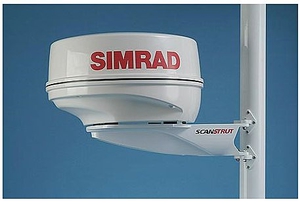 A radar antenna mount is a bracket which holds the radome and, perhaps, other devices to the exterior of the boat.
Applications
Since mounting gear is almost never supplied with radar, it must be acquired separately.
Technologies
These supports are rigid and immovable, since the slightest play could affect the radar's operation. Mounts are designed for specific locations. These include the mast of a sailboat, a coachroof or a rollbar. Most are of stainless steel or aluminum, but composite models also exist. Some can hold other gear, such as Satcom, VHF or TV antennas, anemometers, wind vanes or navigation lights.
How to choose
Choice will depend on vessel configuration and installation location. The higher the radome is mounted, the greater its range. It also should be as close to the boat's centerline as possible, though a clear field of view forward is essential. Some mounts are designed for rotating radomes.