How to choose this product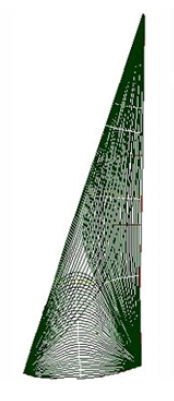 A racing jib is a headsail whose cut and materials are conceived for racing sailboats, from the smallest dinghy to the largest maxi-yacht.
Applications
Such sails are found on all types of racing vessels including one-design, production and prototype boats. They have a shorter lifespan and are much more expensive than Dacron® cruising sails, making them unsuitable for day outings, cruising or even race training.
Technologies
The size and nomenclature of these headsails varies greatly. Models include jib, solent, different sized genoas and ORC jibs, among others. They are generally made of high-tech composite synthetic fabrics such as Kevlar®, carbon, Mylar® and Cuben fiber. Each fabric offers a particular combination of lightness, dimensional stability, elasticity, UV-resistance and other characteristics.

Some jibs have battens and/or reef points, and there are both cross-cut and tri-radial versions available. Molded models, such as 3DL® sails, provide unusual stiffness, but their limited useful life can make their cost prohibitive.
How to choose
Racers seek optimum sail performance, including in the jib. The ideal model is very rigid, weighs next to nothing and offers dimensional stability. Extra weight, especially aloft, negatively affects stability and performance.
Advantages
- High-performance
Disadvantages
- Expensive
- Limited lifespan
- Regatta-use only