How to choose this product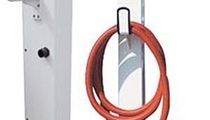 A pump-out system enables blackwater waste and bilge water to be removed from boats. Most are found in marinas.
Applications
Generally, such systems are designed for waterside installation in marinas, to pump boat bilges and waste water from vessel holding tanks.
Technologies
These units generally comprise one or more pumps, a control panel and, in certain cases, a holding tank. Mobile systems for use in ports without permanent pumping stations are trailered or installed on a boat. Models without a built-in tank must pump waste directly into the sewer system or into a dedicated external holding tank.

A pump used to remove water polluted by petroleum residues (oil, diesel fuel, etc.) must not pump waste water into the sewer. Thus, certain systems include different pumps for different tasks. Pump operating voltage runs from 110 to 480 V, depending on model.
How to choose
The primary constraint will be pertinent regulations. Intended use, waste water, bilge water or both, will determine the choice of a one- or multi-pump system. Configuration requires the collaboration of a professional. Hoses must be long enough for the types of boat to be serviced, and there should be an odor control device. Self-service systems should have a built-in payment device if the service is not free.