The Online Boating and Maritime Exhibition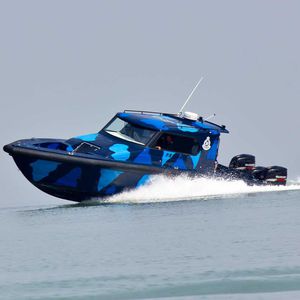 patrol boat
Predator 40 (Cab)
Length: 12 m
Passenger capacity: 8 unit
... + knots. With fuel capacity of 1100 litres, it has an operating range of more than 250 nautical miles at 35 knots of speed. It has the ability to turn inside 7 boat-lengths at 40 knots. The Predator 40 ...
See the other products
LeisureCat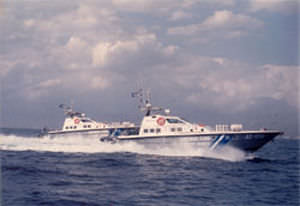 Length: 16.8 m
... crafts while its Diesel consumption is reduced allowing for long Ptrolling times. The arrangement allows for a small boarding boat to be mounted in the Aft platform while the cocpit arrangement allows the user to board ...
See the other products
Motomarine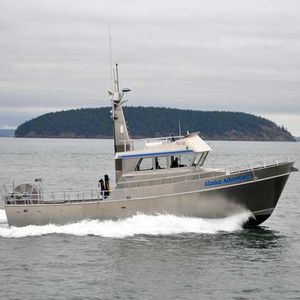 professional fishing boat
55' Combination
Length: 55'00"
The 55' combination was designed and built for a customer who wanted to do more than fish. Although the vessel is an excellent long liner and gillnetter, it was also USCG certified for 12 passengers and had a knuckle crane and other devices ...
See the other products
Rozema Boats Works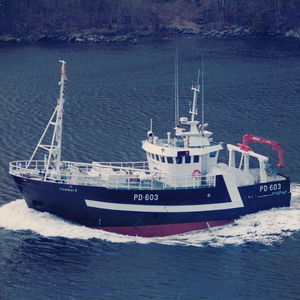 fishing trawler
069 - Fairway II
Length: 23.16 m
Passenger capacity: 6 unit
Delivered: January 1989 Owner: Alex Summers, Scotland Design: SIMEK Type: Whitefish - Trawler Class: Lloyd's Register + 100 A1 - Fishing Vessel + LMC Main Particulars: Deadweight: 125 t Length o.a.: 23,16m Length p.p.: 19,80 m Beam: ...
See the other products
Simek AS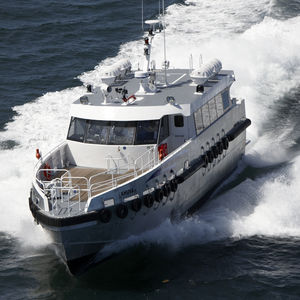 Length: 19.2 m
Passenger capacity: 25 unit
SPECIFICATIONS Beam: 5.5 Meters Draft: 1.1 Meters Passengers: - Construction: Marine Grade Aliminium Main Engines: 2 x MAN 284LE413 Speed: 30 Knots Fuel Capacity: 1 x 4400 Litres Propulsion: 2 x Hamilton ...
See the other products
Veecraft Marine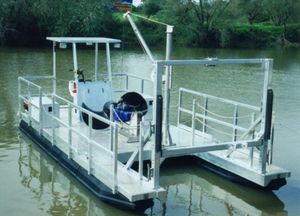 Length: 6.5 m
Any configuration at all can be manufactured, we can design, engineer and construct to your needs. We have manufactured sludge pontoons, aerating pontoons, hose floats, work platforms, specialized moving craft, pontoons, floating bridges, ...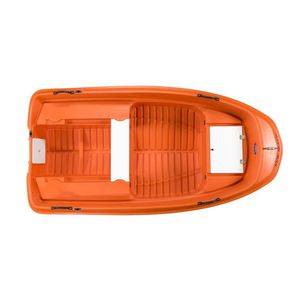 rescue boat
NEW MATIC 300
Length: 3 m
Passenger capacity: 3 unit
... craft for freshwater and sea use This is a solid and stable boat that is ideal for both sea and freshwater use. It is the smallest of our rescue boats therefore easy to transport. The boat ...
See the other products
RIGIFLEX SAS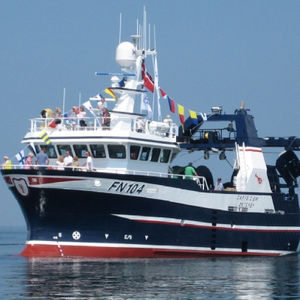 fishing trawler
CARPE-DIEM
Length: 19.95 m
Passenger capacity: 7 unit
Length overall:​ 19,95 m Length between pp: 17,50 m Breadth moulded: 7,30 m Depth main deck: 3,30 m Depth shelter deck: 5,55 m CLASS: None – built under survey of DMA ​ MAIN ENGINE: MTU/Detroit: ...
See the other products
Karstensens Shipyard Ltd.

Length: 9 m
Passenger capacity: 14 unit
... most robust, complete, offshore charter rib in Scandinavia. With great transverse stability and balance, this boat puts the crew and captain at ease regardless of sea conditions. A very dry and capable ...
See the other products
C-RIB

rescue boat
RB 4.3 series
Length: 4.52 m
Passenger capacity: 6 unit
Montmontaža-Greben's rescueboat are made of glass reinforced plasctics, produced in two version: - as standard rescue boat equipped with outboard engine of 15HP, - selfrighting rescueboat equipped by inherent bouyancy ...
See the other products
Montmontaza Greben

professional fishing boat
AD-40
Length: 3.99 m
Passenger capacity: 7 unit
... the manufacturing of professional RIB´s for professionals. The complete production process is geared around producing a boat that meets the final customers wishes without compromising ...
See the other products
NEUMATICAS DE VIGO

Length: 5.49 m
Passenger capacity: 5 unit
Others in the industry believe that reducing overall weight, strength, and integrity will enhance performance. It might, however its dangerous.
See the other products
Xpress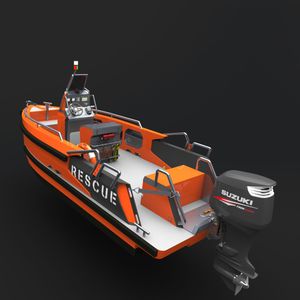 Length: 6.5 m
Passenger capacity: 6 unit
The most reliable and effective boat platform systems and solutions to allow coast guard rescue and police to accomplish their mission
See the other products
SEAX BOATS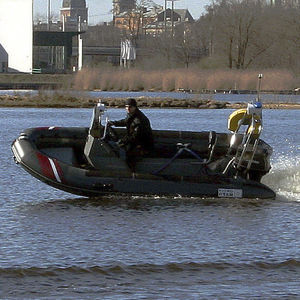 Length: 4.5 m
Passenger capacity: 9 unit
Specification: Length - 4,50m Width – 2,00m Weight - 205kg Tube diameter - 0,49m Design category - C Max engine power - 50Hp Max persons - 9 Max load - 950kg Tube chambers - 4 Engine shaft ...
See the other products
FJORDSTAR, LTD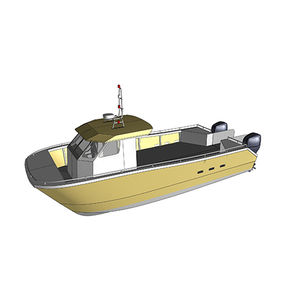 water taxi
RIDER CS31 - CASEYEUR
Length: 9.55 m
Passenger capacity: 12 unit
... capacity : Up to 8265 Lbs Catégory (leisure) : B Catégory (commercial) : 3rd Deck Plans ( Commercial ) Fishing ( Handliner / Longline / Net / Pot ) Taxi Boat – Up to 12 passengers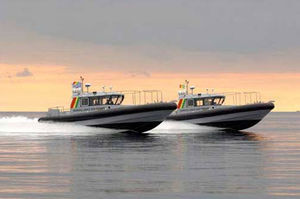 Length: 11.65 m
Passenger capacity: 4 unit
Raidco Marine offers a comprehensive range of Patrol Boats for State action at sea. They integrate the double-chine deep-V hull design principle and are capable of reaching high chase speeds. These ...
See the other products
Raidco Marine

Length: 24.4 m
Year: 2011 - Shipowner: Rimorchiatori Riuniti - Country: Italy LOA: 24,40 m - Beam: 11,25 m
See the other products
Armon Shipyards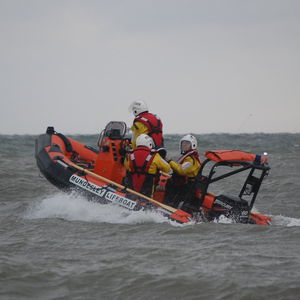 utility boat
RIBCRAFT 4.8
Length: 4.8 m
Passenger capacity: 6 unit
... harbour patrol boat through to a sailing club support boat used for rough water rescue craft. The Ribcraft 4.8 range is used for many different applications all over the world including water-sports centres, ...
See the other products
RIBCRAFT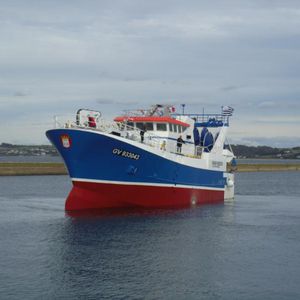 fishing trawler
BARA BREIZH
Length: 24.95 m
Passenger capacity: 5 unit
Trawler, 25m long, for Armement Bigouden, a fishing company in Guilvinec
See the other products
Chantier Naval Gléhen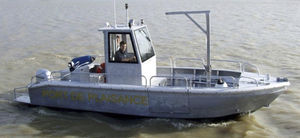 Length: 7.5 m
... multi-purpose" WORK BOAT The shipyard "Squalt marine international" builds this type of "multi-purpose" all-aluminum boat, capable of carrying out assistance, surveillance, towing and ...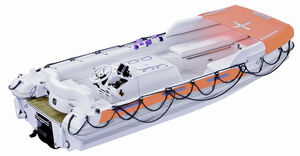 rescue boat
JET TENDER 14 RB
Length: 4.25 m
Passenger capacity: 6 unit
... System: Sandwich structure, hand laid Kevlar and vinylester fire retardant resin with polyurethane closed cell foam core Inflatable tubes: Hypalon/Neoprene coated polyester fabric 1100 Dtex with No. 5+1 (B.I.S.S.) separate ...
See the other products
Castoldi

Length: 23'00"
Features and Specs At A Glance • Length: 23 ft • Beam: 8 ft 6 in • Trailerable without permits Propulsion Options • Single Outboard up to 300 HP • Single Stern Drive up to 300 HP • Single Inboard Waterjet up to 300 HP Available Topside ...
See the other products
Silver Ships Inc.

Length: 6.8 m
Passenger capacity: 8 unit
Specifications: Overall length 6,80 m Extreme breadth 2,47 m Transom deadrise 21° Weight without engine and fuel 630 kg Load capacity 1020 kg Compartments 5 Maximum engine power 131 kilowatt (175 h.p.) People on board 8 seats Speed up ...
See the other products
EK Marine

Length: 23 m
Passenger capacity: 95 unit
... Main Engines : 2 x Caterpillar C18 Installed Power : 2 x 533 bkW Propulsion : 2 x Fixed Pitch Prop Construction Material : Marine Grade Aluminium Flag : NZ MSA / MAST 1C
See the other products
Incat Crowther

Length: 27'00"
... Imagine the flexibility of a boat with a fully enclosed cabin that fits nicely in a standard size shipping container. Armstrong is a step ahead of the remote location issue. Designed in two pieces, this monohull fire ...
See the other products
Armstrong Marine