Prefabricated cabins for ship
How to choose this product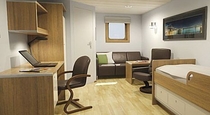 A prefabricated cabin for ships is built on a factory assembly line where construction is easier and quicker than aboard ship.
Applications
These units are found on passenger ships, ferries, freighters and other types of vessel.
Technologies
The cabin is usually equipped with all the necessary elements including head, berth, desk, shelves and other furniture.
How to choose
Choice will depend on intended occupant, be it a passenger, a crew member or an officer. Cabin dimensions and drain locations are also important factors.
Advantages
- Rapid installation
11
companies |
25
products (boat or nautical equipment)
ALMACO BUILDS TURKEY

ALMACO Group
ALMACO has extensive experience in designing and supplying modular cabins as well as building new accommodation areas on passenger ships. We offer full turnkey service...
ALMACO Group
ALMACO has 10+ years of experience in modernizing existing cabins. The key to a successful modernization project is a high level of prefabrication, sophisticated logistics chain (both shore side and on...
R&M Marine Products
The cabin atmosphere quite often determines whether the passenger will book a repeat trip on the vessel or not. For a short while, it is the private accommodation for our customers' customers –...
CREW

R&M Marine Products
The crew quarters serve three functions: Workplace, recreation room and private retreat. Utility, social appeal, and personal comfort take priority depending on the quarters' function. Meeting...
KK24-08/32-000

LUBMOR
Modular living cabin is used for quick and easy building of superstructure on the...
INEXA A/S
The concept of the TNF JIT Cabin is based on the popular TNF Modular System, where all product items are precut and pre fitted in our workshop prior to packing them in installation order on one crate...
Maritime Møbler AS
Through our new Alu Design Flexi Collection for ship furniture; we have once again created a radical new design . We are elevating ourselves to a new and unprecedented level of sophistication within maritime...
Jamestown Metal Marine Sales, Inc.
Jamestown offers a wide range of JIT cabins for cruise vessels, offshore living modules, and modular accommodations on naval vessels. - Improved Quality – Cabins are assembled...
FAMOS , Ship Furniture Factory
The cabin module is a spacious construction of accommodation of the crew members and ship passengers. The construction of the cabin module is designed for an easy transport and installation on board....
Parmarine
The system is a semi-modular, complete ship accommodation construction system, which consists of prefabricated bathroom units, prefabricated preoutfitted large wall sections and ceiling panels. All...
Extend the search
Search by catalog