How to choose this product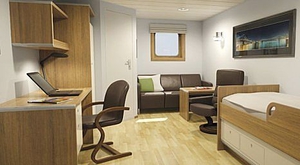 A prefabricated cabin for ships is built on a factory assembly line where construction is easier and quicker than aboard ship.
Applications
These units are found on passenger ships, ferries, freighters and other types of vessel.
Technologies
The cabin is usually equipped with all the necessary elements including head, berth, desk, shelves and other furniture.
How to choose
Choice will depend on intended occupant, be it a passenger, a crew member or an officer. Cabin dimensions and drain locations are also important factors.
Advantages
- Rapid installation