Prefabricated bathrooms
How to choose this product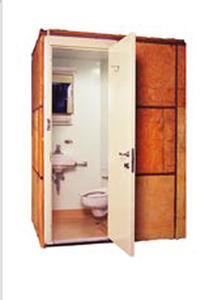 Prefabricated bathrooms are modules, generally rectangular, which can be fitted with toilet, tub, shower and/or other facilities. They are easy to install aboard merchant and passenger vessels.
Applications
Such units are often used by shipyards building ferries, ocean liners or other vessels with numerous identical cabins. In some cases the same modules are used in hotel construction.
Technologies
These structures are generally built around a metal framework to which metal or composite panels are attached. They are made waterproof by use of an interior sealant, sometimes tinted. The numerous options include bidet, sink, shower, toilet and sauna.

Plumbing and electrical wiring are generally factory-installed, greatly simplifying connection to on-board systems. Such modules generally feature a door with a latch or a lock operated by code or magnetic card. Some include a "free/occupied" indicator.
How to choose
Detailed specifications should include the required number of bathrooms, available installation space and the desired degree of comfort and luxury.
13
companies |
22
products (boat or nautical equipment)
For ships
ALMACO BUILDS TURKEY

ALMACO Group
ALMACO has extensive experience in designing and supplying modular cabins as well as building new accommodation areas on passenger ships. We offer full turnkey service to...
For ships
ALMACO Group
ALMACO has 10+ years of experience in modernizing existing cabins. The key to a successful modernization project is a high level of prefabrication, sophisticated logistics chain (both shore side and on...
For ships
LUBMOR
LUBMOR Sp. z o.o. manufactures sanitary units (bathrooms) for shipbuilding industry and for construction. They are made as self-contained rooms with outlets for water, sewage and electricity. The...
For ships
WET UNITS

NORAC
When considering prefabricated wet modules onboard a ship, offshore living quarters or even in a building on shore, quality is a key word in every respect. The units from Norac are produced 
accorcing...
For ships
INEXA A/S
The TNF Wet Units are made with a special focus on details to ensure that form, function and durability contribute to the overall effect. The TNF Wet Units are made according to customer specifications...
For ships
Jamestown Metal Marine Sales, Inc.
Options and configurations are endless. From basic functionality to ultra high-end facilities, we can meet your needs. - Infinite Options – We provide basic configurations for commercial vessels...
For ships
FAMOS , Ship Furniture Factory
The cabin module is a spacious construction of accommodation of the crew members and ship passengers. The construction of the cabin module is designed for an easy transport and installation on board....
For ships
Parmarine
Parmarine Ltd's ready-to-install bathrooms, shower units, combined toilet and sauna units are a first-rate solution for apartment blocks, terraced houses and hotels. The prefabricated premises are excellent...
For ships
STEEL

Premec Industries (IMG)
Premec Steel Units are made as a carcass with not only the bottom tray in welded steel but also the walls. This type of wet unit shall be clad with an Isolamin type of sandwich panels on visible exterior...
For ships
SANDWICH

Premec Industries (IMG)
Premec sandwich units are made up with sandwich walls of steel sheet and mineral wool and a bottom tray of steel or aluminium. The main advantage with this type of unit is the degree if prefabrication....
Refine the search
Prefabricated bathrooms
Extend the search
Search by manufacturer
Search by catalog