How to choose this product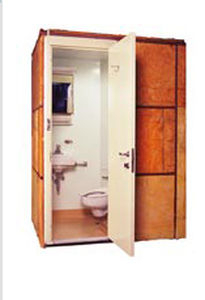 Prefabricated bathrooms are modules, generally rectangular, which can be fitted with toilet, tub, shower and/or other facilities. They are easy to install aboard merchant and passenger vessels.
Applications
Such units are often used by shipyards building ferries, ocean liners or other vessels with numerous identical cabins. In some cases the same modules are used in hotel construction.
Technologies
These structures are generally built around a metal framework to which metal or composite panels are attached. They are made waterproof by use of an interior sealant, sometimes tinted. The numerous options include bidet, sink, shower, toilet and sauna.

Plumbing and electrical wiring are generally factory-installed, greatly simplifying connection to on-board systems. Such modules generally feature a door with a latch or a lock operated by code or magnetic card. Some include a "free/occupied" indicator.
How to choose
Detailed specifications should include the required number of bathrooms, available installation space and the desired degree of comfort and luxury.