How to choose this product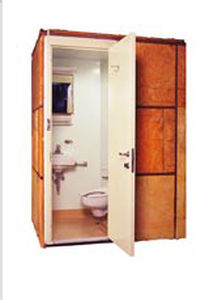 Prefabricated bathrooms are modules, generally rectangular, with WC equipment and amenities, both standard and optional (toilet, bath, sauna, etc.). They are put together in workshops, and are easy to install aboard trade vessels and ocean liners.
Applications
Such units are often used by shipyards constructing vessels with numerous identical cabins (ferries, ocean liners).

The very same models can sometimes be used in hotels.
Technologies
Prefabricated bathrooms are generally built around a metal structure upon which are affixed metallic or composite-material panels.

Waterproofness is achieved using a (colored) interior sealing material (e.g. epoxy caulk).

Options are innumerable: bidet, sink, shower, etc.

Plumbing systems (water flow and evacuation) and electrical connections are generally pre-installed, which greatly simplifies connection to the main water and power networks.

Such modules generally feature a lockable door (latch, code, magnetic card, etc.). Some models feature a "free/occupied" indicator.
How to choose
Establish a detailed scope statement, taking into account the required number of bathrooms, available spaces, and the degree of comfort and luxury.