How to choose this product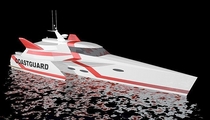 The motorized trimaran is a multihull vessel with one central and two lateral hulls, and powered by a motor. NauticExpo includes yacht, ferry, rescue and other types of power trimarans.
Applications
Power trimarans can be used as private pleasure craft, government vessels, passenger and car ferries, and in military applications.
Technologies
The trimaran is designed such that the triple hulls reduce wetted surface, in turn reducing drag. Trimarans are generally equipped with high-performance engines and water jets, enabling them to reach high speeds.
How to choose
The principal criterion is intended use: private, public or military.
Advantages
- Speed
- Stability
Disadvantages
-Reduced maneuverability