How to choose this product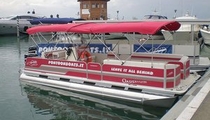 A pontoon boat is a floating platform designed to offer ample room and conviviality.
Applications
These vessels resemble barges equipped for leisure cruises with family and friends. They are intended for use on quiet, inland waterways, and are very popular around the Great Lakes in the US and Canada.
Technologies
The pontoon boat usually consists of a metal platform supported by two or three pontoons, offering low drag despite the spacious deck area. These catamaran or trimaran boats may have inboard or outboard motors powerful enough to push them at high speed over flat water. Equipment often includes seats, benches, refrigerator, fishing gear and other amenities. Some models have a cabin or double deck.
How to choose
Choice will depend on the number of persons to be carried and the intended use, be it fishing, day-cruising, overnight outings or other activities.
Advantages
- Roomy
- Shallow draft
- Stable at anchor
- Equipped for comfort
Disadvantages
- Unsuitable for rough water
- Functional but lacks aesthetic qualities