How to choose this product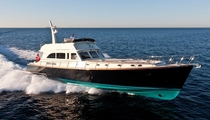 Planing yachts are motor-crafts over 15 meters long with hulls designed to become partially airborne beyond specific speeds. The bow waves flow towards the wake waves, therefore decreasing the contact surface with the hull bottom and increasing the craft's velocity.

These sport crafts are designed for maximum hydrodynamic efficiency.
Applications
Such crafts are designed to cruise at high speeds.

They allow to reach destinations in minimum time, including shelter in case of oncoming hostile weather.

Planing yachts are often used for luxury chartering.
Technologies
Hull design combined with a carefully planned motorization allows the craft to become supported by hydrodynamic lift.

Planing yachts are relatively light and are designed to limit fuel consumption. They are generally made of composite materials, and sometimes of aluminum.

If speed is the main objective, comfort is not neglected, most of these yachts featuring decorations planned by famous nautical designers.

Optional amenities are often custom-designed: home cinema, jacuzzi, gym, etc.
How to choose
Depending on navigation zones, choose a center console model (optimum outside amenities) or a craft with a closed superstructure.

A bar menu on the upper right hand of this page will allow you to determine the craft's size.

Planing yachts for chartering feature many more cabins than privately-owned models.