Petrol in-board engines
9 companies | 111 products
How to choose this product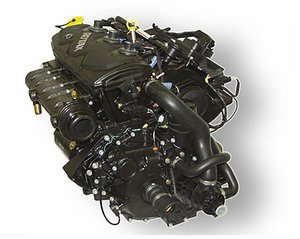 There are two types of inboard engine: diesel and gasoline. Gasoline inboards are relatively uncommon on leisure craft. Gas outboards are easier to install.
Applications
These engines are mainly used on fast powerboats.
Technologies
In a gasoline engine, an electric spark ignites a compressed air-fuel mix, causing it to explode. Modern versions have a four-stroke cycle. Two-stroke engines, louder and more polluting, are disappearing due to new regulations.
How to choose
Consider the motor's:
- Technology
- Fuel consumption
- Weight
- Power
- Torque

A indirect injection naturally-aspirated motor will be easier to repair because it is mostly mechanically controlled. However, its fuel consumption is higher than that of a direct injection model.
Advantages
- Greater power
Disadvantages
- Lower torque
- Fuel consumption