How to choose this product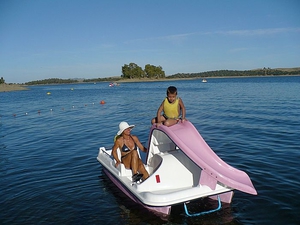 Pedal-boats are leisure crafts propelled by wheel blades activated by a crankset.
Applications
Beach resort businesses often rent pedal-boats to tourists and children for short sport, ecological or leisure cruises.

They are particularly suited to calm waters, lakes and sheltered water bodies.
Technologies
Most models only use muscle-force for propelling. Some units, however, feature a small auxiliary electrical motor.

"Water bikes" can be used as bicycles. Their users are seated on saddles instead of on bucket seats.

Many models are catamarans (double hull), for stability reasons. They can be made of plastic (polyester, polypropylene, polyethylene, etc.) or of aluminum.

Some feature toboggans and/or ladder-equipped diving platforms.

Children models can take the shapes of cars, pelicans, dragons, etc.
How to choose
The number of seats is the main element to consider.

Choose a specific shape.

A Bimini (a sun protecting canvas top) is very useful in especially hot areas.
Advantages
- Silent
- Can be used for exercising
- Economical (no fuel)
- Convivial
- Easy to maintain
Disadvantages
- Slow
- Unsuitable for choppy waters
- Limited seating