Patrol express-cruisers
How to choose this product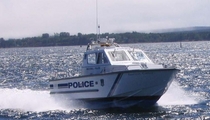 Patrol express-cruisers are powerboats designed for coastal surveillance. The models offered on NauticExpo measure between 9.5 and 15 meters long.
Applications
Such craft are designed for maritime police work, firefighting, coastguard, customs and similar operations.
Technologies
These vessels generally have a deck covering stowage for material and, in some cases, a berth for crew off watch. The enclosed wheelhouse offers excellent visibility in all directions. The powerful engines are capable of high speeds for rapid intervention.

They can be made of composite materials or aluminum, the latter offering the advantage of great strength to withstand collisions and impact associated with boarding other craft. Such boats must be seaworthy enough to complete their missions even in heavy weather. Reliability is one of their fundamental characteristics.

They are generally equipped with numerous electronic devices including alarms, sirens, flashing lights, radar, GPS plotters, VHF and other radios, and any additional gear required for successfully carrying out a variety of missions.
How to choose
Reliability is the main element to consider. Speed is another essential asset in coastal surveillance.
12
companies |
29
products (boat or nautical equipment)
Filter by :
› New products

(0)

› Products with video

(1)
Extend the search
Search by manufacturer
Search by catalog