How to choose this product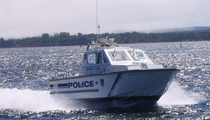 On NauticExpo, patrol express-cruisers are motor-crafts specially designed for coastal surveillance, measuring between 9.5 and 15 meters. They are often made of aluminum or composite materials.
Applications
Such crafts are specially designed for maritime police work, firefighting, coast-guard operations, customs operations, etc.
Technologies
The craft features inside spaces for equipment storage, and sometimes a bunk for work shifts.

The wheel-house is situated inside a fully-glazed cabin, and offers excellent all-round visibility.

Patrol express-cruisers feature powerful engines, and can easily reach the high-velocities required for rapid interventions.

They can be made of composite materials or aluminum, the latter being extremely resistant (impacts, repeated docking alongside crafts, etc.).

Patrol express-cruisers must be sturdy enough to withstand harsh weather, and reliable enough to be used any time of the year.

They are generally equipped with numerous electronic devices: alarms, sirens, rotating lights, radars, GPS plotters, radios (VHF, UHF ,etc.), and many other systems facilitating the crew's missions.
How to choose
Reliability is the main element to consider.

Speed is an essential asset in coastal surveillance.