Patrol-boats
68 companies | 225 products
How to choose this product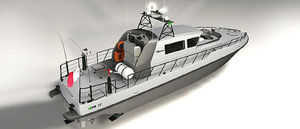 A patrol boat is used by public agencies for coastal surveillance and the control of fishing and other maritime activities. It also can be used in port and marina operations. Those over 25 meters long are usually military vessels and are called patrol ships.
Applications
These vessels, including rigid inflatables, launches and smaller boats, are used for patrolling a country's national waters. Capabilities vary with size and equipment. Offshore launches control commercial fishing and track down smugglers and polluting vessels. Inland waterways are patrolled by motorboats.
Technologies
Such boats often have powerful engines and propulsion systems enabling them to overtake a fleeing vessel or rapidly approach one in violation of regulations. Certain models carry armament, are equipped with night-vision gear and stealth systems.
How to choose
Choice will depend on required range, area of activity and type of surveillance.