Panels for ship's partition walls
How to choose this product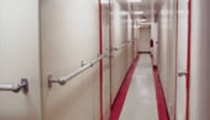 A ship partition panel separates compartments while providing insulation, decoration and fire-resistant properties.
Applications
These panels are used by numerous shipyards. Such prefabricated sandwich modules save them significant construction time.
Technologies
Each different layer of the sandwich confers its specific properties to the finished product. Constituents include steel, aluminum, mineral wool, honeycomb materials and laminated plastics.

Some offer acoustic insulation, while others, used as surfacing, lend strength and aesthetics to the partition. Still other materials have fire-retardant qualities. These modular panels can be assembled quickly and easily, greatly reducing the time needed to compartmentalize the ship.
How to choose
Choosing from among the many different types of panel will depend on the properties sought, including finish, insulation, sturdiness and fire-resistance. Most ship construction must conform to precise norms established by classification societies and international conventions such as SOLAS. Verify that the panels are certified for the type of ship being built.
14
companies |
62
products (boat or nautical equipment)
Panel (for ship's partition wall)
INEXA A/S
The TNF 2S Wall System offers total flexibility and the shortest installation times in the market for panels in standard thickness of 25, 50 and 100 mm, widths up to 1100 mm and lengths up to 5250 mm....
Extend the search
Search by manufacturer
Search by catalog