How to choose this product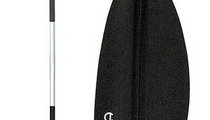 Paddles are used to propel canoes, kayaks and occasionally tenders and other small craft. Unlike oars, they are not held to the vessel by oarlocks or thole pins.
Applications
A paddle can have one or two blades, depending on whether it is for canoe or kayak use. Sophistication varies from leisure to competition models.
Technologies
Single paddles with a blade at one end and a handle at the other are used for canoing, rafting and paddleboarding. Double models are used by kayakers or by solo boaters. The blade at each ends makes for balanced propulsion without shifting the paddle from side to side. On asymmetric versions, one side of the blade is smaller for reduced drag as the paddle leaves the water.

The paddle can be made entirely of wood or carbon, though certain models combine an aluminum handle with a plastic blade. Some can be disassembled for easy transport and storage. Most of these are for tenders or emergency use. Stand-up paddles have a single blade on a long handle for paddling a board while standing. Some feature anti-drip rings on the handle.
How to choose
Choice, including single or double blade, will depend on use, whether alone, with partners, seated, kneeling or standing. Carbon is the material of choice for competition paddles for its unequaled strength-to-weight ratio. Asymmetric blades offer increased efficiency.