The Online Boating and Maritime Exhibition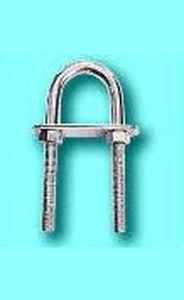 fixed pad eye for sailboats
S0851
See the other products
East Brightness Hardware

fixed pad eye for sailboats
510002
Number: 53115503216 Name: UBolt S/S with Cross Bar 4 Spec: 510002 Memo: UBolt S/S with Cross Bar 4 Class: Hardware P/N Description 612112 UBolt S/S with Cross Bar 4";

fixed pad eye for sailboats
Oblong
See the other products
Shandong Province Yangxin Hvtong Metal Products Co.,Ltd

articulated pad eye for sailboats
EY-R
Heavy duty folding pad eye with high capacity load made from stainless steel. Friction function prevents the arm from sounding caused by vibration. Arm is made of special stainless steel with high strength. ...

articulated pad eye for sailboats
AISI 316 stainless steel with anodised black aluminium base. When not in use the eyeboltcan be folded black into the base that it. 15 mm thick and has a diameter of 100 mm. Eyebolt dimensions: diameter 8 mm. Height 20 mm, utilisable ...