The Online Boating and Maritime Exhibition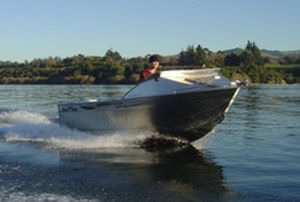 outboard runabout
440 ANGLER DORY
Length: 4.4 m
The Angler has a large working space. The Angler has high sides. The Angler has good stability. The Angler is a no frills fishing boat. The Angler emphasises ease of cleaning. Standard Features Include: 4 way switch panel and loom Anchor ...
See the other products
Marco Boats

outboard runabout
Pacific Craft 30 RX
Length: 9.07 m
RX means Racing eXperience because everything is issued from racing upon this new 30 RX : hull design, reinforced construction, light weight, the ergonomics of piloting, performances without forgetting comfort and versatility – a boat ...

outboard runabout
SPORTSMAN 180
Length: 5.61 m
WE'VE HANDLED THE SAFETY. YOU HANDLE THE FUN. Often imitated, but never duplicated, the Sportsman is unmatched in its class and has been our best-selling boat for more than a decade. It's hard to believe that a hull this rugged can have ...
See the other products
Hewes Marine Company

Length: 3.38 m
KART SPECIFICATIONS Lenght: 3.38 m /Ft: 11,15 Beam: 1.36 m / Ft: 4,44 Weight: 58 Kg Max people: 4 Max engine: 8 KW COMFORT Removable bow seating Waterproof bag can be carried as a shoulder bag Ergonomic ...

outboard runabout
200 PACIFIC NAVIGATOR
Length: 6.71 m
Our reputation for superior water performance is renowned. The product of thousands of discriminating Duckworth owners, the Pacific Navigator 200 has earned its high standing as the boat to own. It's simply the result of doing so many ...

outboard runabout
386 XF™
Length: 5.64 m
Having to choose between a family boat and a fishing boat has gotten a lot easier. Choose the 386XF™ and get the best of both worlds.
See the other products
Stratos

outboard runabout
660 Open
Length: 6.6 m
Open version for open-minded people who want more than just speed. For those who expect space and freedom. She has it all with a performance edge. It looks stunning when admired from every angle due to its aero- and hydro-dynamic advancements. ...
See the other products
Admiral Boats S.A.

outboard runabout
Cutwater 500
Length: 5.02 m
Small but beautiful > Cutwater 500, a pearl of a sport boat built in mahogany plywood and equipped with a perfectly balanced out boarder – everything you need for an unforgettable day trip on the water. With a cockpit set towards the ...

outboard runabout
Pebbles
Length: 4.2 m
"Pebbles" - hand-made single copy craft from Bavarian shipwrights. Materials: composite - marine-grade plywood, polypropene, veneer (teakwood). Technical specifications Hull length 4,2 m Hull width 1,8 m Hull submersion 0,2 m Engine ...

outboard runabout
23' ALASKAN II
Length: 7.16 m
... the exclusive Wooldridge jet tunnel to offer a package that delivers great performance with optimum fuel efficiency with outboard jet (and prop) power. The formed rib bottom, with four formed corrugations, two on each ...
See the other products
Wooldridge

outboard runabout
Massive Attack
Length: 5.9 m
The vessel was conceived as a female molded production vessel primarily for water skiing but with occasional offshore racing capability. The owner's brief predetermined the structure because it had to be bullet proof at 90mph. The goal ...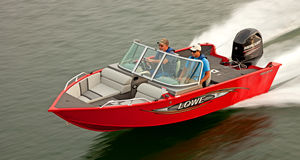 Length: 5 m
... offer room to stretch out, with extra gear storage hidden beneath. The pre-rigged package includes your choice of Mercury® outboard (up to 90 hp) for unbeatable performance. With the versatile FS 165, the day is yours. ...
See the other products
Lowe

outboard runabout
MASSIVE ATTACK
Length: 5.9 m
The Ballistic 1950 KC is a second generation design drawn by Craig Loomes and built by Scott Lane Boat Builders. As well as building this high performance ski boat Lane also produced the moulds to allow for further production. Massive ...

Length: 5.33 m
Sport Run-Abouts for the Most Demanding Recreationalist Titan's runabouts are perfect for those who are looking for a tough, safe and stable platform for their marine recreational property or larger ...