How to choose this product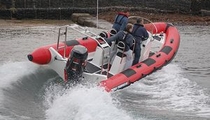 Most rigid inflatables have outboard motors. These boats range in size from small to nearly 30 meters, with motors up to 300 horsepower, including multi-motor models.
Applications
The rigid inflatable is suitable for recreational and professional use. Its seaworthiness in choppy conditions and trailerability make it a popular craft.
Technologies
The outboard is attached to the transom. Control cables, increasingly placed within the hull, run forward to the steering console in sheaths. Steering can be mechanical (by cable) or hydraulic. The latter is more expensive but is more durable. The gas motor may be two- or four-stroke. Though much heavier and more expensive in the past, compact four-strokes now compete for attention with two-stroke models.
How to choose
Budget and intended use will determine the choice of motor. Its price-to-power ratio should be taken into account. An under- or over-powered boat can be dangerous.
Advantages
- Wide choice of motor
- Motor easily changed
- Easy to put on a trailer
Disadvantages
- Price
- Cost of upkeep