How to choose this product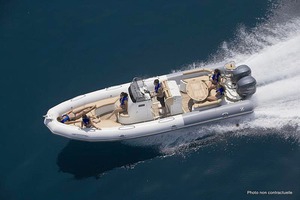 The outboard inflatable boat includes tenders, rigid and equipped inflatables from two to 20 meters long. It is suitable for recreational and professional use, depending on size and options.
Applications
Comfortable and fast in choppy waters, these craft are widely used for pleasure boating, including inshore cruising. The wide range of motor options available for each model facilitates finding a combination suitable for every budget and use.
Technologies
All such craft have inflatable pontoons for flotation. Newer materials reduce puncture risk, though they are still subject to UV and abrasion damage. Careful upkeep is needed to prolong useful life. The pontoons can be part of a purely inflatable craft, perhaps with rigid floorboards, or attached to a rigid hull.
How to choose
The inflatable pontoons give these boats greater load capacity than a rigid hull of the same size. However, comfort considerations will usually limit the number of passengers to less than the legal maximum.
Advantages
- Handles chop well
- Range of motor choice
- Lighter than a rigid hull of equal size
- Large capacity if over 5 meters long
Disadvantages
- Pontoons subject to puncture
- No shelter from bad weather
- Most are suitable for day-trips only